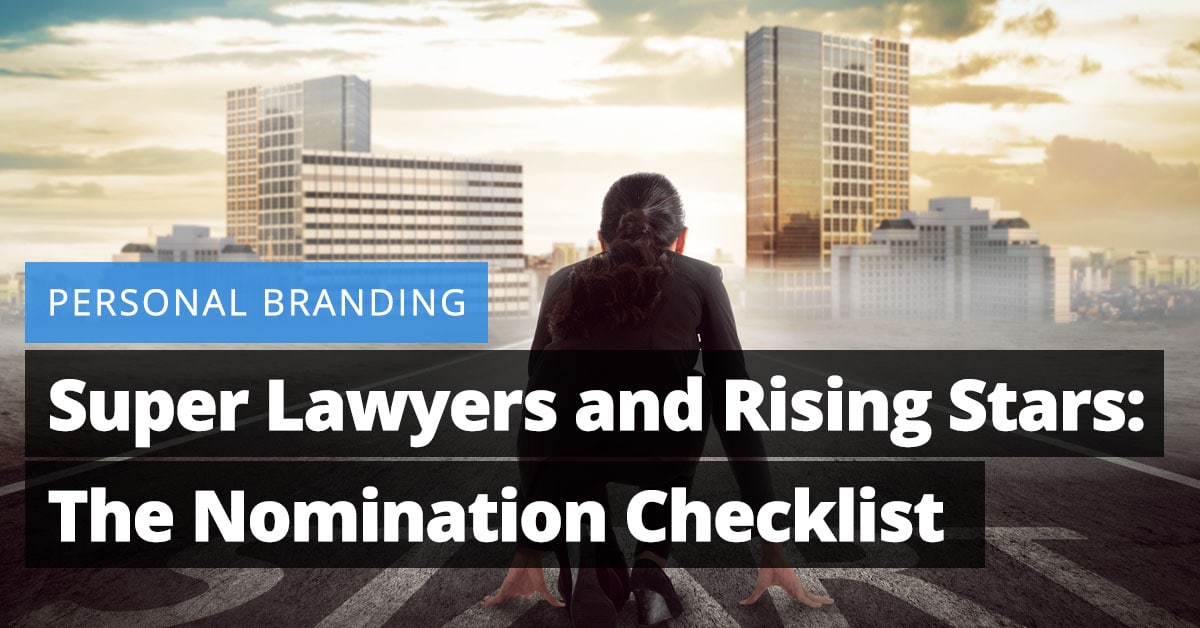 In several states, nominations are open for Super Lawyer and Rising Lawyer status. You can check which states are included. Nominations are the lawyer rating organization's first of four steps that a candidate must meet in order to be honored with the designation of Super Lawyer and Super Lawyers Rising Stars. Not only is this an honor but it's a form of personal branding for lawyers that every lawyer should leverage.
To nominate an attorney, the nominator must have personally observed the candidate in action. This could be as opposing counsel, co-counsel or observation in a courtroom. It is important that the candidate is not nominated purely on reputation.
Point values are awarded a candidate. To discourage dubious outcome, the lawyer rating organization awards candidates more valuable points if they are nominated by another attorney outside of his law firm. The Super Lawyers website offers several rules for nominations, which include the following:
No self-nominations.
In-firm nominations are counted only if an equal or greater number of lawyers outside your firm are nominated.
You may nominate a maximum of 21 lawyers (this means you are limited to seven in-firm nominations, seven out-firm nominations, and seven Rising Stars nominations).
No "campaigning" or soliciting nominations from other lawyers as such nominations may be disregarded and lead to disqualification.
Base your nominations on first-hand knowledge, rather than reputation-e.g., opposing counsel, co-counsel or someone you have observed in court or during a transaction.
An attorney can nominate another attorney by logging into her account or downloading a PDF ballot.
Super Lawyers selects attorneys who practice in more than 70 practice areas. The size of the law firm does not matter. The process follows four steps in the selection process.
The lawyer rating organization employs the same selection process for Rising Stars as it does for Super Lawyers except that the candidates must be less than 40 years old or younger or have been practicing 10 years or less. Rising Star candidates go through the Super Lawyers process.
Only 5 percent of total lawyers in a state successfully achieve the designation of Super Lawyer while only 2.5 percent of total lawyers are honored as Rising Stars.
STEP 1: NOMINATIONS / CREATION OF CANDIDATE POOL
The first step in creating a candidate pool is by formal nomination or being identified by the research department as an attractive candidate.
The research process includes searching for lawyers who have earned certain honors or credentials that indicate that these attorneys would rate high in peer recognition and professional competence. The research staff examines databases, online sources and trade publications.
Informal nominations originate from those who are not eligible to nominate candidates because they are not actively licensed attorneys. The lawyer rating organization awards the candidates no points, but the suggestions are put in the candidate pool for further evaluation.
STEP 2: INDEPENDENT RESEARCH BY SUPER LAWYERS
Super Lawyers evaluate 12 indicators of peer recognition and professional achievement. The indicators are weighted differently from each other. They are as follows:
Verdicts/Settlements
Transactions
Representative Clients
Experience
Honors/Awards
Special licenses/certifications
Position within the law firm
Bar and/or professional activity
Pro bono and community service
Scholarly lectures/writings
Education/employment background
Other outstanding achievements
STEP 3: PEER EVALUATION BY PRACTICE AREA
The third step is the blue-ribbon review, which is a peer evaluation by practice area. The candidates with the most points from each practice area serve on the panel. The panel then reviews and raters the candidates.
STEP 4: FINAL SELECTION
So that all firm size attorneys are represented, there are four groups of candidates depending on the size of law firms. Further, before any candidates are honored, the research staff checks each candidate's licensing status, disciplinary or criminal status or outstanding matters that might reflect poorly on the attorney.
If you have further questions on how to get nominated for Super Lawyers or Super Lawyers Rising Stars, visit their nominations page. You can get answers to many questions you have by visiting the Super Lawyer's FAQ website.
Download as PDF
Want a copy of this article? Download it for free!
Download This Post