Law Practice Management Software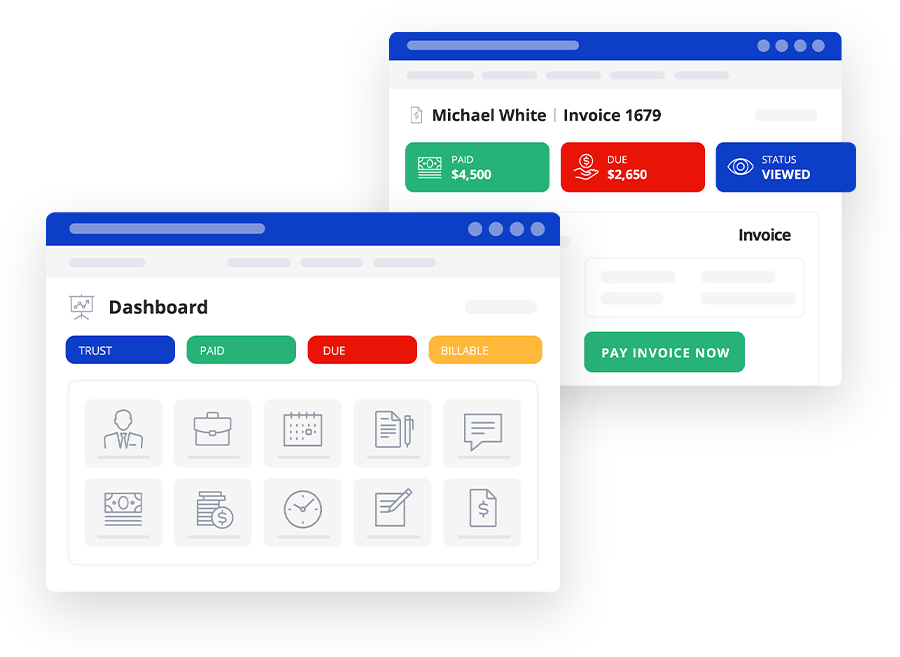 In the legal arena, time is money and growth is time. Being able to manage new clients, maintain scalable growth, and properly collect your payments is key to success. Proper legal practice management software can be your best friend, so it's important to know which features are imperative to your firm.
What is Law Practice Management Software?
Legal practice management software can be a boon to your firm in more ways than one. A properly managed tool can perform everything from document management, to calendaring, and even legal billing. The idea isn't to make your firm overly complicated, with new, complex technology that requires an IT department to manage. The idea is to streamline your day-to-day functions, so you can focus on more important things — like practicing law.
Law Practice Management Software For

Tax Law

Family Law

Bankruptcy Law

Tax Law

Traffic Law

Employmental Law

Healthcare Law

Estate Planning Law

Criminal Defense Law

Personal Injury Law

Intellectual Property Law

Antitrust Law

Elder Law

Immigration Law
Legal Practice Management Software Features
When it comes to law practice management software you need to consider what your firm needs. Ask yourself what is most important to your operations, how big your firm is, and what would increase your productivity while also making your clients more satisfied. Let's consider some core features that really make a legal practice management platform shine.
Legal Case Management

:

What if you could manage your cases from anywhere? Using cloud-based software to manage your case allows you the flexibility of working on your cases from anywhere — anytime. Automating many of your manual tasks lets you do more, with less time.




Legal Document Management

:

Paperless document management can boost your bottom line in a plethora of ways. Tired of sorting through mounds of outdated paperwork? Manual documentation cramping your hands, and your calendar? By using digital legal documentation, you can utilize templated documents, and keep everything organized in an easy-to-access, online format.

Leave the briefcase at home

, and never worry about forgetting important paperwork.




Legal Billing

:

You didn't go to law school to become an accountant, so why would you want to spend so much time working on billing? Legal billing software can reduce this burden, with invoice templates, time and expense tracking, and simple data reports.

The right software should be 100% audit proof

, and strictly follow

IOLTA, ABA

and state bar guidelines.




Calendaring

:

No one wants to miss a meeting, and forgetting a deadline could spell trouble for a case. A proper legal practice management platform can help you manage all of your calendars in one location.

Set reminders

for big dates, or even merge your

calendars into one view

— it's possible to do with PracticePanther's comprehensive legal practice management software.




Legal CRM software

:

Managing client relationships is key to successful firm growth. The right software can

streamline your intake process

, and

create communications efficiency

without the worry. Secure, efficient, and simple client management is possible with PracticePanther.




Legal Software Integrations

:

You might already be using several platforms that you're comfortable with. That's great, and you don't necessarily have to drop these systems altogether. You can integrate other applications with your legal practice management software, and have them all work together. Sync your

Outlook

or

Gmail

inboxes, your

Exchange calendar

, or even your

Box

,

Dropbox

, and

Google Drive

accounts. PracticePanther offers the

ability to integrate

with so much more, allowing you to automate and consolidate your workload — save time, click less, bill more.




Practice Management Software Security

:

Your

data

is your livelihood, so

you need to protect it

at all costs. In a world rife with

data breaches

, identity theft, and the potential for blowback against your firm — you need military grade protection. PracticePanther offers 256-bit encryption to keep you feeling safe, happy, and covered. Limit data access by location, choose access levels, and feel secure with HIPAA compliant document storage.




ePayments

:

Consolidating payments through an easy, online channel is great for you and your clients. The PantherPayments ePayment system simplifies the eBilling concept. Allow your clients to pay with Visa, American Express, eCheck or even ACH. Set up deposits into a retainer account, or even get paid through a single link using OneLink. Don't worry about audits either, our legal practice management software is

100% compliant and audit free

.




Legal eSignature Software

:

You can create, send, and store your signed legal documents all in one location. No filing cabinet, no searching through folders.

PracticePanther's eSignature software

allows you to speed up client intake, and start approving contracts within minutes. Even better — you can actually keep track of who signed what!
Legal Practice Management Software FAQs
What can law practice management software do for my firm?
A well designed practice management software can give you time back! Through simple automation, invoice templates, and streamlined calendaring, you can cut back on the redundant tasks and focus on expanding your practice. Using ePayments, you can even reduce invoice collection time by as much as 20%.
When is it time to start using law practice management software?
Do you find yourself spending too much time managing basic administrative functions? Have you accidentally missed a deadline, or perhaps forgotten an important document when on-the-go? Considering a cloud-based law practice management platform will give you the freedom to remove basic tasks, access all your documents at the click of a button, and set automatic reminders for important dates. Did we mention electronic signature tracking, too? Stop chasing down clients to get pen-to-paper.
How can I get my law firm employees to start using practice-management software?
PracticePanther aims to make your life easier. You can easily sell them on the several efficiency points — like consolidating multiple calendars, on-the-go access to all of their legal documents, or scheduled reminders for important dates! Case management becomes simple with our legal practice management software. But maybe they love chasing down signatures all day?
Do I need to migrate my own data into a new law practice management platform?
PracticePanther will provide you with a dedicated account manager to make the transition as simple and painless as possible. If you decide at any point to switch to another platform, you can easily export your data at any point.
WIll my firm need to hire someone to manage the implementation for a new law practice management tool?
Nope. PracticePanther will provide you with a dedicated account manager to assist you with your setup and management. Our law practice management software is so easy to use, that you'll probably wonder why you hadn't been using it sooner. We also have a large support library, and training videos to get started.
Is a Legal Practice Management Software Right For My Firm?
You might be surprised to learn that legal management software can benefit firms of any size. Solo? Small? Maybe you're a large enterprise-scale firm? You don't need a massive IT team or 6-digit technology budget to see the benefits of using a total practice management
Big firms come with bigger problems. Complex organizational structures don't have to be a burden. Using legal practice management software to coordinate security settings for content can keep you smooth, secure and safe. Automating workflows can reduce time spent on mundane tasks, or simply using a client portal can streamline communications between your firm and clientele.
Choosing the right legal practice management software boils down to what will satisfy your firm's needs the most. Sure, there's plenty of options — but you want your money to bring in the best value. Consider the benefits different features can offer:
Why Choose PracticePanther?
It's simple. Our goal is to make you the most efficient firm you can be. Don't take our word for it, our clients are happy to speak for themselves — just check out these testimonials. Still not convinced? No problem, we're offering you a free trial of our law practice management software just to show you how simple it can be to manage your matters in the cloud. Just ask for a demo to get a quick walkthrough, or click right into your free trial today.
Thousands of legal professionals gave PracticePanther 5 out of 5 stars because they're able to focus on what matters most - the law.


Best practice management system...
"I use this program every day in my law office and am very grateful for how easy it is. Even better, the customer support team is phenomenal."
"I use PracticePanther as my main case management system. My team and I LIVE on this software. It is far better than the alternatives I have used in the past and in other firms."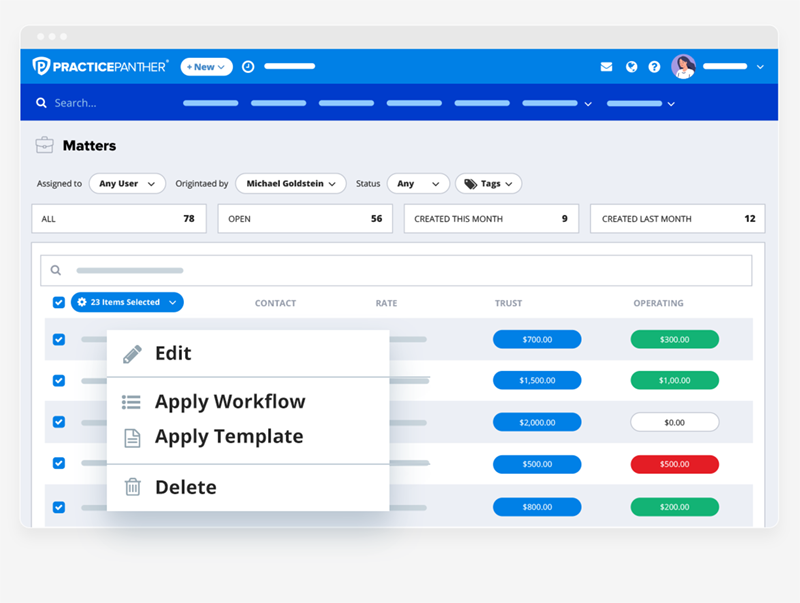 Stop performing mundane, redundant tasks. Through PracticePanther's batch capabilities, you can intuitively automate and edit countless time entries, intake and expense forms, and practice-specific invoices in a few clicks.
Make the switch to the most trusted legal practice management software.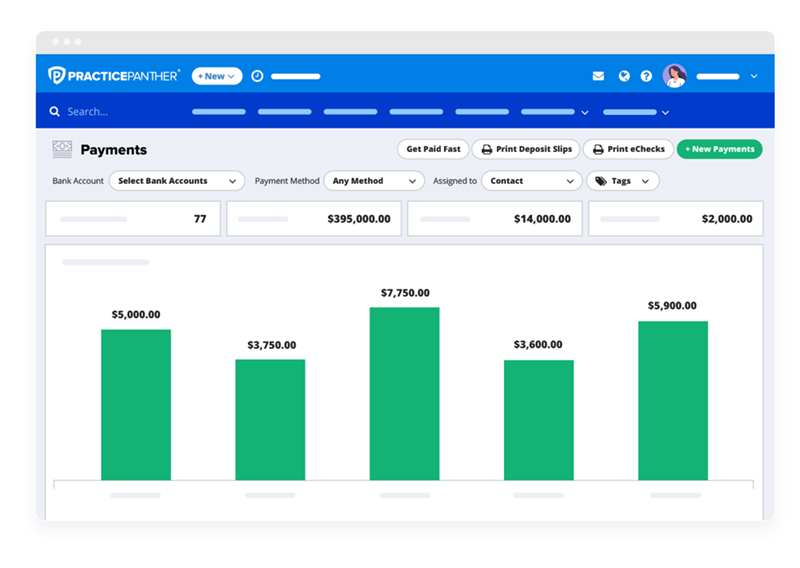 Custom Reports & Legal Software Intelligence
Through PracticePanther's custom reporting, you can know which matters bring in the most cash, or break down the number of upcoming tasks per matter, so you know how to efficiently allocate your time and resources. Bottom line - you've got a lot going on. We're here to help you simplify.
Efficient Law Practice Management in the Cloud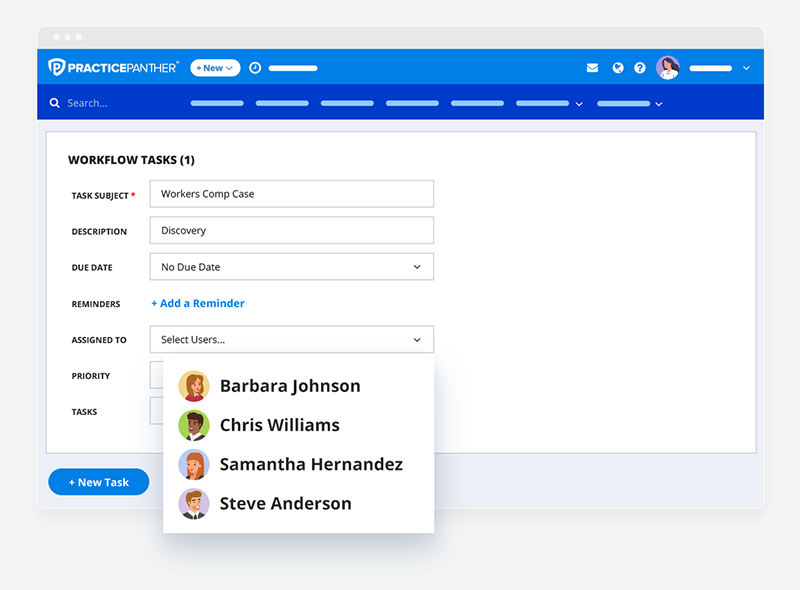 PracticePanther is more than just a software, it's a live database connecting you to colleagues and clients so you can work from any device, at any time, anywhere. Our cloud gives you the power to do just about anything. Invite a new client to a folder. Collaborate on an invoice with Accounting. Even check on the status of a matter. Work from anywhere.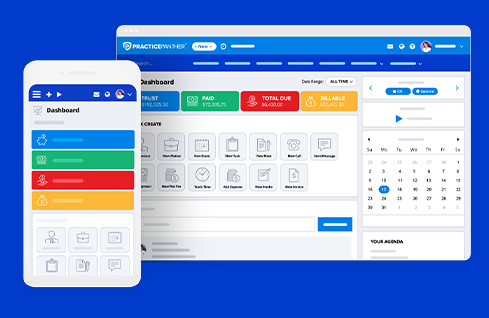 Manage your matters with the best-in-class law practice management software.